In New York City, where every square foot matters and each customer counts, your restaurant faces a relentless pursuit of efficiency, innovation, and appeal. Amid the chaotic kitchen activity, the right cold beverage dispenser can not only enhance your guests' experience but also dramatically streamline your operations, addressing the quintessential NYC restaurant pain points: cost, space, and customer attraction.
Answering the call is an array of Bubblers from Grindmaster, where top-notch technology meets captivating design. In this blog, we'll introduce you to three distinct series that can revolutionize your beverage service: the Simplicity Series, the Classic Series, and the G-Cool Series.
Simplicity Series Bubblers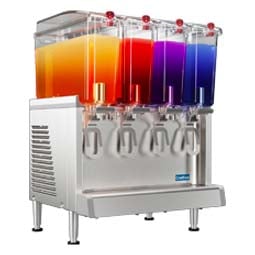 When it comes to the Simplicity Series, the phrase "less is more" takes on a whole new meaning. These dispensers are designed to offer less where it counts, giving your restaurant more of what it needs.
The Simplicity premix dispensers boast a compact design, taking up less counter space for a higher workflow efficiency. They require less time and effort for cleaning and disassembly, freeing up valuable time for your busy staff. Meanwhile, reduced power usage and product wastage mean less strain on your budget and the environment.
Fewer removable parts mean less worry about losing or damaging components, and less maintenance over time. The Simplicity Series' philosophy of offering less equates to giving your restaurant so much more in terms of efficiency, reliability, and cost-effectiveness.
Dynamic Design and Functionality
Simplicity Series Bubblers have a sleek design that is both modern and functional. You can dispense up to four different flavors from clear plastic bowls, either 2.4 or 4.75 gallons, all set on a sturdy stainless steel base. With a 9-inch cup clearance, these bubblers cater to various cup sizes. You have the freedom to select between Spray or Agitation models, ensuring the perfect dispense of every cool drink type.
Cleaning: As Easy As One, Two, Three
The Simplicity Series lives up to its name when it comes to clean-up.
The Simplicity Bubbler dispenses every last drop of your beverages, reducing waste and allowing for effortless bowl removal.
Thanks to an easy-off bowl release system, assembly and disassembly is a breeze. No awkward bowl removals here.
With fewer removable parts, clean-up is simple and efficient.
Reduced Maintenance and Enhanced Durability
Fewer removable parts not only simplify cleaning but also significantly reduce maintenance and extend the dispenser's lifespan. Advanced sealing guards against leaks for trouble-free usage, and dispense levers can be removed swiftly and easily without affecting the dispense valves.
Interchangeable Bowls: Flexibility at Its Best
With the Simplicity Series, you can easily convert your dispenser to the best bowl configuration that suits your needs. Whether you have two 2.4-gallon bowls or a single 4.75-gallon bowl, these dispensers offer flexibility without sacrificing performance.
Classic Series Bubblers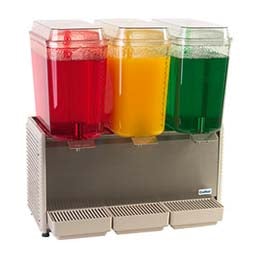 The Classic Series Bubblers blend effective visual merchandising with robust, stainless-steel construction for heavy-duty commercial use. Their high-impact display, coupled with easy cleaning and efficient cooling, makes these bubblers a trustworthy ally in any bustling NYC restaurant kitchen.
With the Classic Series Bubblers, it's not just about serving beverages—it's about creating a visual treat that sells. The powerful visual appeal of these bubblers, whether through Spray or Agitate Circulation, showcases your fruit drinks and other beverages in the most enticing way. The Agitate Circulation is also perfect for creating a pleasing movement for thicker beverages like iced coffee, cappuccino, smoothies, and horchata, without causing foam.
Ease of Cleaning and Sanitary Design
Classic Series Bubblers are built with smooth, stainless steel surfaces that easily wipe clean, and with no coils or domes to worry about, cleaning is a breeze. The MCX Mag Drive™ Impeller, a one-piece design made from advanced magnetic composite material, offers a sanitary solution that is also easy to maintain.
Simple and Strong Construction
These bubblers are not just easy to use, but also robustly built for heavy-duty commercial use. The two-piece stainless steel sanitary dispense system cools right to the dispensing point. Meanwhile, the bowls, made from ultra-strong, UV-protected Lexan with rounded, easy-clean corners, ensure durability and ease of maintenance.
Fewer Parts, Greater Efficiency
The Classic Series Bubblers are designed with simplicity in mind. The fewer parts and pieces, the faster and easier it is to clean, making these bubblers a practical choice for your busy restaurant.
Cooler and More Efficient
With their unique evaporator, these bubblers cool faster and more efficiently than most beverage dispensers in the market. They offer a low-cost, yet high-performance alternative to postmix juice machines, guaranteeing your beverages are always served refreshingly cold.
Vivid, High-Impact Merchandising
The Classic Series Bubblers are not just beverage dispensers, but also effective marketing tools. Add color, decals, and graphics to your Bubblers to create high-impact merchandising. Customize the rear and front panels, side panels, drip trays, and handles with your choice of blue or green or any custom color that matches your brand.
With the option to add your logo and custom decals, these bubblers can turn into a powerful branding tool, increasing your brand visibility and making a lasting impression on your customers.
G-Cool Series Bubblers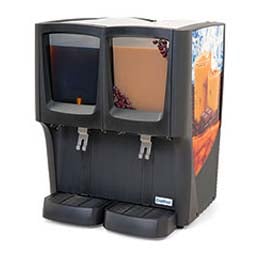 The G-Cool Series Bubblers are the epitome of efficiency and flexibility. With innovative quick clean technology, energy-efficient cooling, and dynamic 360° merchandising, they offer a power-packed performance while allowing you the freedom to customize according to your needs.
G-Cool Series Bubblers redefine efficiency with their Quick Clean Technology, cleaning 50 percent faster than traditional dispensers. This innovative machine design saves valuable labor and promotes better sanitation. Its self-contained bowl lifts off the unit with parts inside for quick, "hands-free" disassembly, making maintenance a breeze.
Stay Cool with G-Cool
The G-Cool Series offers maximum refrigeration performance with its energy-efficient Tri-Cool™ insulated cooling surfaces. This effective cooling uses less energy, ultimately saving you money. It's not just about keeping your beverages cool—it's about doing it smarter.
Powerful Visual Appeal and 360° Merchandising
Attract more customers with G-Cool's dynamic visual display. Your beverage is enhanced by thirst-generating condensation, creating an irresistible attraction for your customers. The hidden, "easy-access" condensation channel keeps your machine neat and clean, adding to its overall appeal.
The G-Cool Series takes merchandising to another level with large, high-impact side graphics and front and rear beverage windows. This 360° stylish exterior offers exceptional branding opportunities, creating a show-stopping display that sells more of your product.
Modular Design for Unique Configurations
The G-Cool Series Bubblers are designed with modular construction, using interchangeable components throughout the line. This promotes machine flexibility while keeping parts inventories low.
The unique "Focus Flavor" feature allows for a triple unit setup with one 18L bowl and two 9L bowls. This design highlights your featured flavor while offering a variety of options for your guests.
Customize to Your Needs
With the G-Cool Series, you have the freedom to customize your machine to fit your needs. Choose from one, two, three, or four bowls and decide between 9-liter and 18-liter bowl sizes. Even the side graphics can be tailored to your preferences, with options for fruit drink, iced tea, or cappuccino.
Reach out to your Sam Tell sales rep today! Let us guide you through the Grindmaster Bubblers and help you select the perfect series for your unique needs.