1

Understand your menu.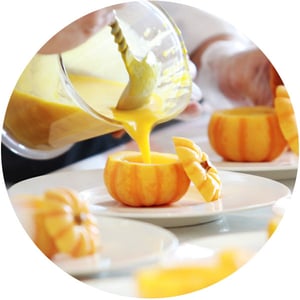 If you're contemplating designs and have not yet established your menu, or at the very least, determined what cuisine you'll be serving, you're getting a bit ahead of yourself.
Understanding your menu is a critical first step to assessing the needs of your kitchen. There's no such thing as a generic kitchen that will work for every foodservice operation. Sure, there are certain staples of commercial kitchen design you'll likely include no matter what, such as prep tables and washing stations, but the equipment you use and the way in which you arrange it will have a lot to do with the food you plan to serve.
This is a good time to begin involving your chef or foodservice team, too, if you haven't done so already. He or she will have a good idea of what sort of configuration and equipment will work best for the menu. Since they're the ones who'll be working in the kitchen each day, it's important they have input in how it will be designed.
---
2

Understand the space.

Measure it out. Understand exactly what you're working with. Taking these measurements before you begin designing will make it easier in the long run.

Keep in mind: It's not just square footage. Knowing where windows, doors and electrical outlets are is also important, especially when it comes time to design your kitchen's workflow.
---
3

Understand your local codes and regulations.

You could design the best commercial kitchen in the world, perfectly configured for your exact needs. This would all be for naught, however, if you didn't take your local codes and regulations into consideration. Organizations such as the Occupational Safety and Health Administration (OSHA), the Food and Drug Administration (FDA) and your state's Department of Public Health set strict standards for food storage, safety, preparation, disposal, etc. Codes vary between states, counties and even cities, so it is important to familiarize yourself with these before starting your design—even if you've designed commercial kitchens elsewhere.

Finding your local codes and regulations online is easy, but they can sometimes be hard to understand. Consider making an appointment with a local inspector to get more information about how to stay compliant with your area's laws.