When it comes to prepping for service, chefs know that time is of the essence. And in small New York City kitchens, prep space is hard to come by. That's why our skilled kitchen supply consultants love recommending Vollrath food prep tools. These food prep tools save time and space slicing, dicing, cubing, and wedging with just a quick pull of a handle. And while you can find many iterations of these tools in kitchens across NYC, Vollrath's prep tools are the premium product. Vollrath thinks of everything: the ease of use, simplicity of cleaning, the sharpness of the blades. So here are a few of our favorite Vollrath Prep Tools to save time and space in your kitchen.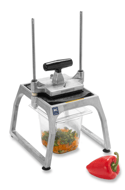 InstaCut
®
Slice, dice, wedge and core up to five times faster than by hand. Whether you need to prepare crunchy apples, tasty onions, juicy tomatoes or something else, the Insta Cut 5.0 will improve the efficiency of your kitchen. The sharp blades will cut in one quick stroke without causing bruising or waste, and pop in and out for easy cleaning. The high-quality design and simple operation ensure delicious results every time.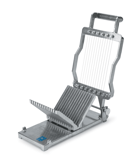 CubeKing
™
From mozzarella to cheddar and Muenster to Swiss, the CubeKing cheese cutter by Vollrath helps you create appetizing cheese cubes, sticks or small blocks. The simple design and one-stroke operation offer speed, precision and ease of use. Strong wires make smooth, consistent cuts every time, ensuring high-quality results your guests are sure to love.



King Kutter
™
The King Kutter manual food processor by Vollrath might just be the most versatile tool in your kitchen. Designed to shred, string, crinkle-cut, julienne, grate and slice, this easy-to-use manual food processor features a strong stainless steel cutting cone that makes precise, consistent cuts. The sleek and sturdy design ensures simple operation, and the cutting cone can be swapped quickly to change the cut style as needed. The suction cup base allows you to place your King Kutter wherever is most convenient, helping you prepare a wide variety of foods with impressive efficiency.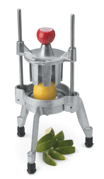 Wedgemaster
™
The 8-section Wedgemaster fruit and vegetable wedger is a versatile tool for any kitchen and allows you to create 8 consistent wedges with this wedger's strong blades. Ideal for fast-production kitchens, the one-stroke operation is three-times faster than cutting by hand. The compact design saves counter space; the solid legs maintain stability, and the safety guard prevents accidental injury. This durable wedger is built to last and is perfect for lemons, limes, tomatoes, pickles, potatoes and more.




InstaSlice
™
Save time and energy with the InstaSlice fruit and vegetable slicer by Vollrath. This sturdy slicer cuts tomatoes, mushrooms and other fruits and vegetables accurately with one stroke, without causing bruising or waste.



Heavy-duty Electric Slicer
The Vollrath® heavy-duty electric slicer is built for hours of hard work. The hard-coated anodized aluminum exterior is durable, and the nonstick coating reduces drag while also making this slicer easier to clean. This belt-driven slicer has a reliable belt that will last for years, and a built-in sharpener easily maintains your high-quality blade.



Meat Grinder
Efficient and reliable under demanding conditions, the Vollrath® No. 12 meat grinder is the ideal product for butchers, supermarkets, restaurants, delis and more. This grinder has a stainless steel body with no sharp corners or seams, and the feed tray holds large amounts of meat at once, while the pusher helps you feed the product down the chute. The 1- energy-efficient motor and precision gear drive easily grind 264 pounds of meat per hour, and a forward and reverse switch allows for higher-quality grinding. Nonskid feet maintain stability, and the grinding head, pan and attachments are dishwasher safe, ensuring a quick cleanup.



Cheese Blocker
™
Whip up all your signature salads, batters , sauces, doughs and more in these lightweight, yet sturdy, mixing bowls. They are easy to clean, dishwasher safe and stackable for convenient space-saving storage. The beaded edge on these bowls makes them easy to hold and carry, and they sit flat on your countertops. They are a wise and affordable option for any kitchen.



Can Openers
The Vollrath® can openers save time and energy while ensuring food safety. The EaziClean™ blades have an antibacterial coating that creates a clean, safe cut to prevent hazardous metal shavings, maintaining food quality and safety. Whether you need to open canned vegetables, savory sauces or something else, the simple assembly, ergonomic design and easy cleaning make these can openers the perfect choice for any kitchen.


Stock Your NYC Restaurant Kitchen Today!
Don't get caught without these essential kitchen supplies in your NYC kitchen! Contact your Sam Tell sales representative today.