When bars and restaurants eventually return to indoor seating, it will be the greatest service-industry comeback story New York City and Long Island has ever seen. But until that cherished day comes, we all have to make the best of a complicated situation.
And what better way to make a bad situation better than with a cocktail? The state took full advantage of Governor Andrew Cuomo's decision to allow cocktails and other adult beverages to be served to-go not long after the quarantine forced the suspension of service inside restaurants and bars.
While outdoor service has slowly become the norm throughout the industry, there's still an obvious need for robust takeout and delivery service. That's why, despite rumors to the contrary, restaurants and bars are still coming up with new and creative ways to pour cocktails to-go.
Restaurant Supplies Adjust To New Rules
Even without a pandemic and subsequent quarantine to contend with, the state's collection of food service establishments are a resilient bunch. With innovative thinkers at the helm, they are able to pivot and redesign their efforts depending on the business climate and market fluctuations. Adaptability is just one of the many talents shared by these chefs and proprietors.
Coach Meeting House in Oyster Bay, Long Island, was mere days into its grand opening when the quarantine order was implemented. Meeting the "new normal" head-on, owner Rustan Lundstrum had to act quickly to keep his business afloat until he could actually seat customers.
"The world I signed the lease for and the world I wanted to open up in doesn't exist," said Lundstrum. "It's a whole different world, which has led to a whole different business model."
That business model includes a shift from brick-and-mortar service to spiked slushie drive-thru establishment—a transformation that has grown in popularity in ways Lundstrum never expected and is made possible by his use of Eco-Products To-Go Drinkware, which is environmentally friendly.
"It's evolved into something we'd never imagined. We've ended up batching out hundreds of drinks a day," said Lundstrum, adding that quality and consistency is essential to success. "The Eco-Products cups, lids and straws have not only been a hit with our customers for being environmentally conscious, but they are also durable, cost-effective and easy-to-use for our staff working in a fast-paced environment."

Coach Meeting House on Long Island pivots to a drive-thru cocktail bar.
Special Offers Help Spike Sales
Part of adjusting to the quarantine means making moves to boost business at a time when the lack of in-house dining caused a dip in sales.
The Upper West Side seasonal Italian eatery Cibo e Vino brainstormed a special "bar menu" for drinks-to-go with food orders. The menu includes choices of tapas, small pasta plates, and small salads, along with a 20% discount for food orders and a 50% discount for select wine bottles.
"During the time when restaurants were open only for delivery and takeout, drinks to-go were really popular and a great addition to our takeout offer," said Diana Sarenac, general manager of Cibo e Vino, adding that the eatery's most popular cocktails are Margarita, Aperol Spritz, and Botanica, a refreshing vodka-based cocktail with mint and cucumber. "Our customers were happy to enjoy special prices for selected wines, cocktails and non-alcoholic drinks to go."
Marinate In The New Normal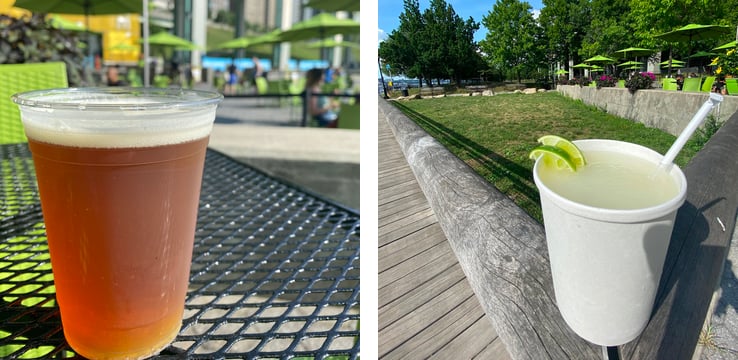 Pier I Cafe's outdoor space quenches customers thirst for dining out.
Until indoor service returns to the restaurant scene, proprietors will continue to tinker with their menus and business model.
Danielle Kurtin, purchasing director at Pier i Café in Riverside Park on the Hudson River, said that facemasks and to-go mandates have created some interesting and noteworthy phenomena in the service industry.
"Our customers were happy to enjoy special prices for selected wines, cocktails and non-alcoholic drinks to go."
"It's very hard to communicate without facial expressions. A lot of customer service is written on your face," said Kurtain, adding that alcohol sales have remained steady since the quarantine began. "However, people are definitely ordering more liquor than beer and wine this season."
One of Pier i Café's most popular drinks this summer is the Spicy Watermelon Rita, concocted with house-made watermelon puree. Meanwhile, the classic frozen margarita is also extremely beloved by customers who seek refreshment on a hot summer day.
As for outdoor dining, Pier i Café's unique position on the Hudson River makes it an ideal spot for eaters to make their way back to a restaurant—seated at an outdoor table, of course.
"The park is a great backdrop to our restaurant," said Kurtain. "We have an incredible amount of space to social distance so people can come drink, eat and stay safe."
To-Go Cocktails With Supplies From Sam Tell
Sam Tell supplies all of your establishment's to-go and takeout needs, whether it's for food or cocktails. Contact one of our Catalog Support Representatives and start to build your order to ensure your restaurant or bar is ready to pour drinks for customers no matter where they are.