New York City is home to the world's greatest chefs creating culinary magic in some of the restaurant industry's smallest spaces. And while sheer talent is the key ingredient behind deliciously imaginative dishes, having the right restaurant kitchen equipment helps overcome the limitations of tight quarters in the metro food scene.
From our position in New York's restaurant industry, we've seen some truly remarkable achievements that were made possible by the right piece of equipment being in the hands of the right chef. Building a functioning, efficient, and dynamic kitchen in NYC is no easy feat, that's why we recommend specific pieces of heavy duty equipment that are meant to maximize the world's tiniest kitchens.
For our money, the equipment that best serves to expand NYC kitchens beyond their cramped confines are combi ovens, induction cooktops, and ventless hoods. Let's cut into these elements of local eateries and feast on the inherent advantages of each one.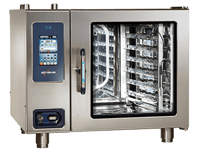 Combi Ovens
A combi oven is a three-in-one commercial oven that allows chefs to cook with steam, hot air (convection) or a combination of both. As an alternative to using a separate steamer or convection oven, a combi can be used to replace both appliances. This saves time, space, and money when it comes to professional food preparation.
The size of your kitchen ultimately determines the size of any commercial appliance, and it's no different for combi ovens. There are three sizes to choose from.
Mini. Ideal for packed kitchens, it easily squeezes into tight spaces. Mini combi ovens have no more than six shelves with room for three to five pans.
Tabletop. Work wonders for quick service restaurants and food trucks. Six to 12 shelves for half-size sheet pans and full-size hotel pans.
Floor Model. Large, high-volume kitchens preparing a lot of product at high-quality standards demand the floor model combi. Built with at least 20 shelves for 20 full-size sheet pans or 40 hotel pans.
Induction Cooktops
An induction cooktop is a cooking surface that heats by transferring currents from an electromagnetic field located below the glass surface directly to the magnetic induction cookware placed above.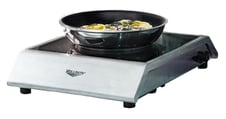 The biggest benefit to using induction cooktops in a small NYC restaurant is that it doesn't generate nearly as much heat as gas or electric cooktops. The residual heat given off by those appliances can often make for incredibly unappealing working conditions in tiny NYC kitchens. Unlike thermal conduction, induction heats the magnetic induction cookware directly without the need for a flame or burner.
Since there's no heating of a separate element, an induction cooktop can heat cookware faster than any other medium. While gas and electric stoves heat cookware indirectly by first heating a coil, burner, or producing a flame, induction cooking provides direct heat to the cookware which then passes the radiant energy on to the food.
The direct heat of induction also makes it an energy efficient option, giving the chef more control over cooking than traditional alternatives.Also, the heat is directly sourced, which means the temperature tends to stay much steadier than electric or gas ranges as well.
Click here to check out our interview with Jerry Kouveras, Vice President of Design & Engineering at The Sam Tell Companies, as he helps our customers sort through the Induction Cooktop vs. Gas Burner debate.
Ventless Exhaust Hood System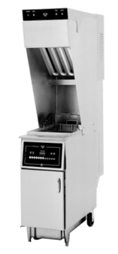 Setting up a proper exhaust hood is one of the first major steps in configuring a proper NYC restaurant kitchen. While all restaurant operators know about vents and how they work in a busy kitchen, some might not be aware of the different kinds of systems that are available. One system in particular, the ventless exhaust hood system, can change the way designers build their kitchens.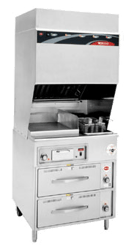 The ventless commercial exhaust hood rids the kitchen of grease, vapors, and contaminated air with a system that is completely self-contained. In other words, while most hoods are installed to vent unwanted fumes
through a wall or roof, ventless hoods need no such framework. Instead, the system is built right into the product. There's no roof fans, duct work, or other pricey infrastructure involved.
What's more, these units are completely portable, which is ideal when space is at a premium. If you need to shift your kitchen around to accommodate crew members or to make room for new appliances, you don't have to work around a massive hood system when you go ventless. Ventless systems are also versatile, available as ventless fryers, a compact ventless combination fryer and griddle top, and more.
Change The Way You Work In A NYC Restaurant Kitchen
Contact your Sam Tell sales rep today and start to take back your restaurant kitchen with these space savers!