Omelets. They might seem simple—a quick whisk, a little flip, a dash of filling, and order up! But any seasoned chef will tell you that mastering this eggy enigma is like a rite of passage. It's all about that delicate touch, a sixth sense for timing, and getting in tune with the mood swings of, let's face it, a pretty finicky ingredient. Simple to make, sure, but to master? Not so much. And with the fast-paced environment of buffets, catering events, country clubs, and corporate cafeterias, there's more to consider than just the cooking.

At Sam Tell, we're nodding in agreement with every chef who's ever tipped their hat to the classic omelet. And because we know the true value of nailing this breakfast staple, we're talking about gearing up—NYC restaurant style—to transform your induction omelet station from just another kitchen corner into the star of the show.

An omelet station isn't merely a part of the kitchen; it's a dynamic culinary stage that needs to be efficient, mobile, and most importantly, safe. That's where Vollrath's induction technology comes into play, offering a solution that's as elegant as it is practical for every omelet station setting.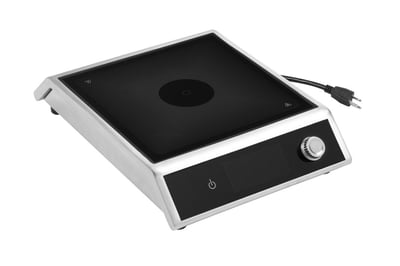 Induction Cooking: The Heart of a Modern Omelet Station
Creating a made-to-order omelet station requires efficiency and flexibility, with a focus on quick setup and breakdown to cater to the dynamic needs of various dining environments. Induction cooking, particularly with Vollrath's 1800-Watt Medium Power Induction Range, easily meets these requirements. This range redefines the way omelets are made in front of the guests. Let's delve into the aspects that make induction cooking with Vollrath a game-changer for omelet stations:
Mobility: Seamless Setup and Breakdown
The key to a successful temporary omelet station, like those seen in brunches, events, or special breakfast setups, lies in its ability to pop up and disappear as needed. Vollrath's induction ranges excel here with their compact, lightweight design. This mobility means that you can swiftly establish a fully functional omelet station in virtually any location—from the upscale confines of a country club to the bustling scene of a corporate cafeteria. After the meal service, these ranges can be just as quickly dismantled and stored, allowing for seamless transitions and versatile use of space.
Clean and Safe: Electric Efficiency
One of the greatest strengths of Vollrath's induction cooktops is their electric nature, eliminating the concerns of gas fumes or open flames. This is a significant advantage when cooking in front of guests, as it ensures a cleaner, more inviting environment. The absence of flames also drastically reduces the risk of accidents, making it a safer choice for both the chef handling the station and the guests enjoying the show. This safety aspect is critical when the cooking area is exposed or in close proximity to diners.
Precision: Expert Temperature Control
Perhaps the most critical feature for chefs, especially when dealing with delicate dishes like omelets, is the ability to control temperature precisely. Vollrath's induction ranges come with intuitive controls that allow chefs to adjust the temperature accurately and instantly. This precise control means that omelets are cooked consistently every time, with the exact texture and doneness required. Whether gently cooking at low heat or quickly searing fillings, the chef has complete command over the cooking process. This precision helps in crafting the perfect omelet, and all-but guarantees a reliable performance during peak service times. This elevates the overall efficiency and quality of the dining experience.
Creating the Perfect Omelet: Essential Tools for Mastery
Beyond the mobile induction cooktop, Vollrath also delivers on the other essential tools you need to master the art of omelet making. Below, we've curated a list of indispensable tools from Vollrath, each designed to elevate your omelet-making prowess and help you build an omelet station that's the envy of New York's finest eateries.
Centurion® French Omelet Pans
Every New York chef knows the key to a good omelet starts with the perfect pan. Vollrath's Centurion® French Omelet Pans are your go-to for not only omelets, but also for a range of dishes like paella. Designed specifically with short, sloping sides, they offer ease of movement—essential for the perfect fold or flip. Crafted from robust 18-8 grade brushed stainless steel, they're made to withstand the demands of a high-volume kitchen without absorbing flavors or discoloration. The reinforced top edges add durability, ensuring these pans hold up, order after busy order.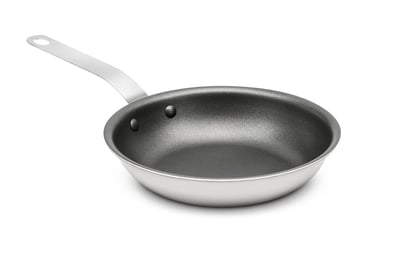 8-inch Tribute® 3-ply Fry Pan with CeramiGuard® II
For those who take their frying seriously, the 8-inch Tribute® Fry Pan is a dream. Its three-ply construction guarantees an even heat distribution, crucial for perfect omelets and searing. This pan combines a robust build with smart cooking, thanks to its premium CeramiGuard II nonstick coating ensuring your omelets slide off smoothly and cleanup is a breeze. The new comfortable handle, apart from providing a cool grip, secures with the Ever-Tite system, minimizing any wobble and enhancing safety.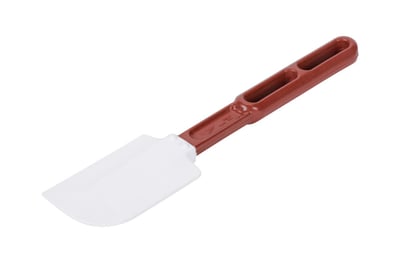 10-inch High-Temperature Silicone Spatula
No chef should be without the right tool to bring it all together. Vollrath's 10-inch high-temperature silicone spatula is that indispensable tool. Safe for nonstick surfaces, its flexible, contoured silicone blade and heat-resistant up to 500°F design let you effortlessly scoop and scrape, ensuring no delicious bite is left behind. Its uniquely designed nylon handle promises both comfort and a firm grip, and with the spatula's integrated design, there are no gaps where food can hide, keeping things hygienic. Plus, little rubber nubs keep your spatula's business end off the counters for ultimate cleanliness.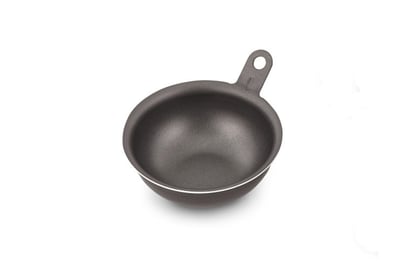 Wear-Ever® Egg Poaching Cups
If poached eggs feature on your menu (and let's face it, in New York restaurants, they should!), you'll love the efficiency and durability of Vollrath's Wear-Ever® Egg Poaching Cups. Designed to fit with the Wear-Ever egg poaching set, these cups turn out perfectly poached eggs every time. The aluminum construction is tough enough to handle the most demanding kitchen environments, and the nonstick finish means your eggs will release smoothly, keeping pace with the morning rush.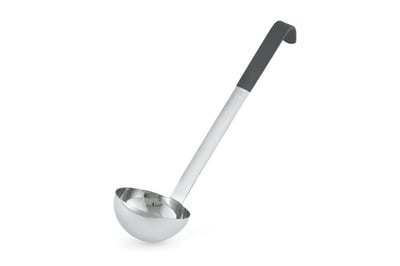 Ladles with Black Kool-Touch® Handles
Perfect for crafting top-tier omelets, Vollrath's Ladles with Black Kool-Touch® Handles, varying from 1 to 8 ounces, ensure accurate and hygienic portioning of eggs and fillings. Their color-coded, antimicrobial handles resist heat up to 225°F, offering comfort and safety. The durable 18-8 stainless steel construction and clear capacity markings on the handles enhance efficiency, making these ladles indispensable for fast-paced omelet stations.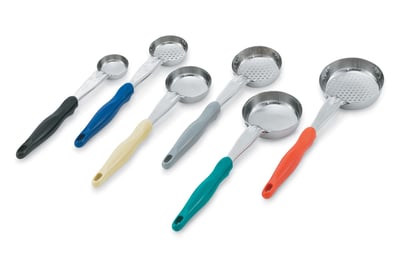 One-Piece Heavy-Duty Spoodle® Utensil
Vollrath's One-Piece Heavy-Duty Spoodle® Utensils are crucial for consistent, precise filling portions at any omelet station. Their one-piece construction combines the convenience of a spoon with the accuracy of a ladle. Featuring high-temperature, antimicrobial handles resistant to 450°F and a practical stopper notch, these Spoodles ensure effective, slip-free use. Their clear capacity markings and robust design streamline the cooking process, maintaining hygiene and quality.
Elevate Your Egg Game: The Vollrath Way to Omelet Excellence
With Vollrath's induction ranges and a lineup of meticulously designed cookware, your omelet station is set to be the highlight at any venue. It's about bringing the efficiency of a professional kitchen to the live-action front of house, captivating your guests not just with delicious omelets but with the art and finesse of cooking them.
Whether you're serving a high-energy brunch crowd in NYC or offering a sophisticated start to a day at a country club, Vollrath and Sam Tell equip you to turn each omelet into a statement.
Now let's get cracking!