Every single foodservice operation needs food storage containers. After decades of supplying foodservice operations and restaurant kitchens, we highly recommend Carlisle®. Here are 3 Carlisle® containers (NSF listed & dishwasher safe) that will help you avoid sticky situations and keep your restaurant kitchen in high gear:
1. Storplus™ Bains Marie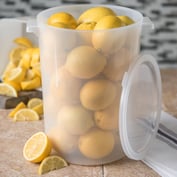 These classic round food storage containers have small tweaks to make them more efficient in your kitchen. The 12, 18, and 22 quart sizes have recessed handles for extra strength and durability and graduated U.S. measurements on the sides so you can easily determine the volume of your contents.
Want to stack your containers but you're worried about jamming them? These have outside stacking lugs that prevent jamming. The polypropylene withstand temperatures from 32°F – 170°F and the polyethylene withstand temperatures from -40°F - 180°F.
2. Storplus™ Economical Space Savers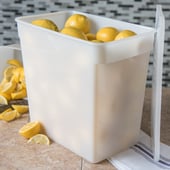 No more storing food in shipping cartons. These guys maximize space in your freezer, cooler, or shelf and they have molded-in volume graduations to indicate capacity. The white polypropylene withstand temperatures 32°F – 170°F and the polyethylene withstand temperatures from -40°F - 180°F.
3. Color-Coded Food Storage Boxes & Lids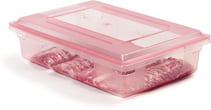 Cross-contamination is a no-no. These polycarbonate boxes are color coded to help your staff keep ingredients separate and safe. They have a superior resistance to food oils and distinct yet transparent colors so you can separate your produce, fruits, meat, and dairy with ease. The 18" x 16" colander is ideal for storing, draining, thawing, and marinating food.
The Lock-Tight reversible lids are stackable and make great serving trays for catering. They also double as dough proofing bus boxes or warewashing tubs for kitchen overflow. They withstand temperatures from -40°F - 212°F.
Don't Overlook Your Food Storage Containers!
Think of your kitchen as an orchestra and your containers as music stands. If the music stands don't stay upright the musicians can not produce. Similarly, if the storage containers are not functional your chefs can not produce! Save your back of house staff grief by keeping their tools up to date.
Not sure which supplies are right for your kitchen? Contact a Sam Tell representative.