You may think we're crazy, but handling ice is no joke! New York City is known to have clean tap water – that's why we have delicious pizza and bagels! But just because your tap water is clean doesn't mean your ice is clean. According to the FDA, ice must be treated like food to avoid contamination. You can provide your staff all the safety training in the world, but if you don't have the right supplies, you can get yourself into trouble. Luckily, we know which products are effective and we highly suggest these two Ice Safety Solutions to keep your restaurant safe and contamination-free.
Saf-T-Ice® Tote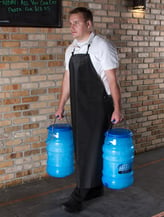 These totes are an absolute game changer. If you're looking for an efficient and safe way to transport your ice from the machine to the bar area or wherever they need to go, this is your best bet. The dedicated ice totes feature an integrated comfort handle with raised Tri-grips™ to prevent hand contamination and for easy and safe pouring at any level. The patented HACCP Hanger™ attaches to ice machines for faster and more efficient filling of ice totes. What's more, the Integrated Handi-Hook™ allows the tote to be hung upside down for easy drying and sanitary storage. Say less!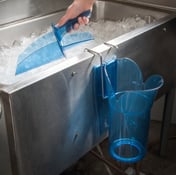 Saf-T-Scoop® & Guardian™ System
Are you constantly spilling ice? And where are you putting your scoopers when they're not being used? Serve ice faster, reduce spills, and keep your ice scoop in a clean holder. Two germ guards on the scoop holders protect ice from human contact and the system can be mounted inside or outside ice bins for convenience.
Tackle Contamination Before it Tackles You!
Whether you're opening a restaurant and need ice handling solutions or looking to upgrade your existing buckets, totes, and handles, Sam Tell has everything you need to keep your operation efficient and safe. Contact us today!