Sam Tell is a family business, with four generations of Tells having worked within the company since its founding in 1956. Our family values extend far beyond our name, however.
Our loyal customers are part of the clan, too. Superstar Chef Josh Capon has been a cherished member of the Sam Tell family for nearly 20 years, and we've proudly watched him establish a remarkable name for himself throughout the restaurant business. Chef Capon is known for his restaurants—Lure Fishbar, B&B Winepub, El Toro Blanco, and Bowery Meat Company—as well as for co-hosting the show "Frankenfood" on Paramount Network (formerly Spike TV). A busy guy, to say the least!
We interviewed Chef Capon a while back about his extraordinary journey to success, and he not only shared a candid, moving account of what it's like being an executive chef, but also helpful insights into the designs and equipment that make his restaurants sizzle. We therefore felt it worthwhile to republish this captivating exchange, below.

We met at Lure Fishbar, at 142 Mercer Street in New York City. Stepping inside and absorbing the vibe of its interior immediately proved that dining at a Josh Capon restaurant is much more than just enjoying a meal—it's a multi-sensory experience. The dining room design resembles a classic sailing yacht, with long, slanted wall cutouts reminiscent of a ship's portholes, and dim mood lighting evoking a speakeasy feel. It all sets the stage for the incredible seafood prepared inside the kitchen—a kitchen designed and equipped by Sam Tell.


Capon's good humor and big personality make him truly a one-of-a-kind chef, and we were eager to learn more about how he got his start.


SAM TELL: "Tell me a little bit about your history. What made you want to go to culinary school in the first place?"
CHEF CAPON: "Every job I ever had since I was 14—I started working at 14 at a local bakery—has been in the food service industry. I was a busboy, I was a dishwasher, and I eventually became a line cook. Then I went to the University of Maryland, and I was having a wonderful time—and by wonderful time, I probably mean too good of a good time—and after a couple years, I had to declare a major. The major I declared was Agronomy. My mom said to me, 'What's Agronomy?' And I said, 'Oh, c'mon, Mom. Agronomy is the study of the soil and the conservation of the environment!' She said to me, 'What the hell are you going to be? A forest ranger?' I realized that I had to find out what I really wanted to do and get the hell out of there. I decided to transfer to culinary school because I always loved to cook—I was cooking for a lot of my friends at the time, ya know, grabbing twenty bucks from everyone and making big, fat dinners. So [going to culinary school] just seemed logical. I like to say, I made a very mature decision at a young age to leave a big college atmosphere where I was having a great time…[transferring to culinary school] was the best decision of my life."
"We'll have to agree with you on that one. You're a successful chef with a fan following, what would you say is your ingredient for success?"
"Tough question. I think I really enjoy what I do, and I'm very passionate about what I do. I tell my kids, if you can find something to make a living that you genuinely enjoy, not only will you be better at it, but you'll be more successful. So the key is that I really love what I do—you know, it's a lot of hours, a lot of holidays, it's a hot kitchen, I'm on my feet a lot, I don't see my kids during the week…but I love it. I just absolutely love it."
"That's great to hear. Now, as you just mentioned, it's not all fun and games. What's the most challenging part of this business?"
"The most challenging part is the personnel. We don't sit behind computer screens; we're live. We are taking care of other people. From a motivational point of view, a lot of my servers didn't grow up wanting to be servers. A lot of them are aspiring actresses, musicians, and artists. They're not necessarily doing what they want to be doing. So [the most challenging part is] to get them to come to work and give 110% and take care of other people—because that's really what we do. Also, a lot of my kitchen staff are Mexican, and unfortunately, their families aren't here. So I'm their family. We use the term "family" a lot in the restaurant—we take care of each other, we spend a lot of time together. Taking care of the people who work for you and with you, I think that's the most important thing."
"What's the most rewarding part of the job?"
"I think the most rewarding part is when people have a good time. They're just so appreciative of what we do. They'll say, 'Thanks for making my birthday so special…' I get a lot of that. We really go out of our way at Mercer Street Hospitality, Lure Fishbar, and Bowery Meat Company, to go above and beyond. I always say there are a million restaurants in New York City. Why should they come back? You gotta give 'em a reason to come back. And I think the people who work for us are very appreciative. Even once they move on, they say it was a great experience. As well as people who come eat here. When you take care of people and they're appreciative of it, it means a lot."
"Can you tell me a little bit about the kitchen design here?"
"It's terrible! [Laughs] All kidding aside, I have to say the kitchen is the heart of all my restaurants. That's not just because it's the kitchen—it's because of the way it's designed, it's because of the way it works, and most importantly, it's because of the people who work in it. I always designed my kitchens with Dan and Jerry [of Sam Tell]. It's a collaboration; there's a vision that takes place, and it's executed, tweaked along the way, and modified. [The kitchen] is where I spend most of my time. Especially here at Lure Fishbar, one of the reasons I've been here so long—it's been 15 years already, which is a very long time for a chef to be in one place—is because of the physical plan of the kitchen. It's big, it's roomy, and it's well spaced out. We redesigned the kitchen when it became Lure Fishbar, and we just did an overhaul a couple of years ago to update it even more. A kitchen's a tough place to work, but all of our kitchens are very comfortable and cohesive, thanks to Sam Tell."
"I'm glad to hear that! What would you say is your favorite piece of kitchen equipment?"
"I would say the new S grate burners that we installed in Fishbar last year. We replaced a couple of our burners with S grates; they give off a lot less heat than our flat tops used to, and they just look really cool. I also love my infrared broiler over at Bowery Meat Company, because the way we're cooking steaks over there right now is blowing people away…and it ain't getting old."
"And your favorite utensil?"
"A fork, because I like to eat!"
"Any last comments about Sam Tell?"
"Working with Sam Tell is a pleasure! It really is. One thing I will tell you about this business, that I mean very honestly and sincerely, is that this business is about building relationships—both personal and professional—and the thing about Sam Tell is that we've built relationships over the years. You know, they come to see me when they're in the neighborhood…doing business with friends is not always easy, but when it's right it's right. It really is a pleasure."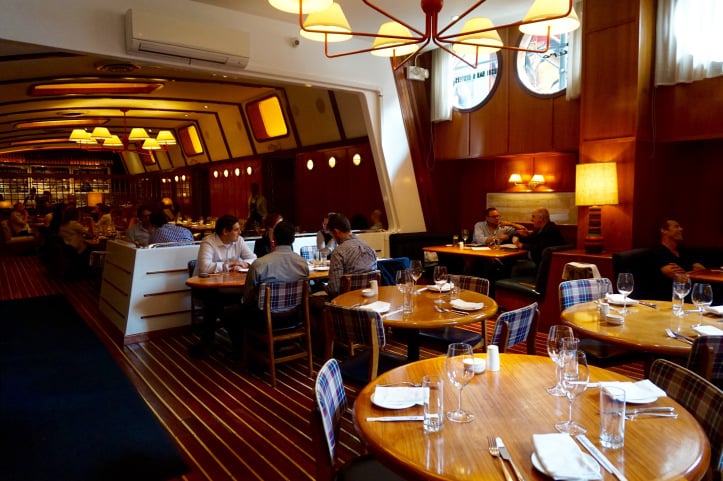 The Sam Tell Companies are proud to partner with Chef Josh Capon, and look forward to working with him for many years to come. (Originally published June 16, 2015. Republished February 27, 2019.)

The experts at Sam Tell are standing by to help you design, build, and supply your ideal commercial kitchen. Contact us, today!