Much like an artist or scientist, a New York City bartenders must be equipped with the proper tools of the trade in order to create magical concoctions in a clean, safe, and efficient manner.
Sam Tell has been in the business of stocking bars and restaurants for a long time. And over the years, we've seen countless establishments excel at service and exceed expectations simply because they had all of the most crucial supplies at their disposal. Conversely, we've witnessed bars and eateries with all of the talent in the world fall short because they didn't stock up for every possible service scenario.
You need to meet the needs of any customer that bellies up to the bar, no matter if they want to order a simple draught beer or a mixed cocktail in a salt-rimmed glass. Here are the most important bar essentials you'll ever need—all of which you can order through Sam Tell!
Cocktail Shaker


Mainly made of metal, cocktail shakers are cylinder-shaped containers used to mix alcoholic beverages with other drinks and ice. The primary purpose of a cocktail shaker is to make the beverage cold as it is being shaken. We recommend your NYC bar has two sizes of shakers on hand: the 30 oz. and 15 oz. This ensures that you can meet most any drink order.
Strainer


There are mainly two types of strainers, a Hawthorne strainer and a Julep strainer. Perhaps the most widely-used strainer, the Hawthorne strainer features a metal disc with perforated holes and an attached handle, stabilizing prongs to keep it in place on top of a shaker tin or glass, and a metal spring aligned on the disc that catches any solid particles when pouring a drink. A julep strainer looks like a slotted spoon but not as shallow and has a shorter handle. It has a round and shallow container with tiny holes that catches the solids.


Jigger


Cocktail jiggers are small hourglass-like devices made from stainless steel used for measuring purposes in mixology. Jiggers come in different shapes and sizes, but the most popular types are called double jiggers. These bar tools feature different-sized bowls on each side, allowing the New York bartender to mix cocktails with the exact amount of alcohol, which guards against wasteful over pouring.

Bar Spoon


Bar spoons are what you use to stir your drinks. They are like regular spoons but have longer and slimmer bodies, and the end has a variety of styles. Sam Tell recommends the American Bar Spoon—also known as the basic bar spoon. With its iconic red rubber tip on the handle end, the American has a simple but functional design.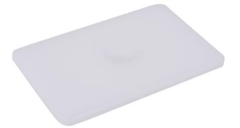 Cutting Board


A durable cutting board might just be the unsung hero of the New York City bar. These omnipresent surfaces are used to cut fruits and other ingredients at the bar. A dishwasher safe, polyethylene cutting board is the most user friendly, needing only a simple, soapy wash—as opposed to wooden cutting boards that need a lot more tender loving care.


Paring Knife


Every chef, whether professional or amateur, needs a good paring knife. The same goes for bartenders. A small, sharp, well-honed blade is crucial for creating beautiful garnishes, zesting a lemon or simply prepping citrus fruits for squeezing.


Pourer Storage Bottles


These handy canisters allow you to pre-emptively mix cocktails for speedy delivery in high-pressure—and high traffic—NYC bar scenes. A complete set of mix-n-pour canisters are color coded for easy identification and each one features a non-slip neck, lid, and spill-stop spout. These canisters also act as storage bottles.


Liquor Pourer


If you've ever attempted to quickly pour a drink from a bottle without a liquor pourer, you've probably made a mess of your bar. Liquor pourers should be equipped on one of every liquor bottle for easy and accurate pouring. These tools are a great way to get identical measurements on every pour, thereby saving money on wasted booze.


Dust Cover


Your NYC bar patrons want drinks that are inventive, delicious, and most importantly, clean. Fit these handycovers on top of your stainless steel pourers to guard against dust or worse, fruit flies.


Glass Rimmer


Glass rimmers are multiple shallow plates that fit an array of glassware sizes. These enable you to quickly rim your glasses with salt or sugar, depending on the cocktail.


Scoop


Ice can be a crucial ingredient in many different cocktails or drinks in general. But as with all other bar items, cleanliness is key. Sam Tell stocks ice scoops that are dishwasher safe, with a removable draining cap, and mounting tools.


Ice Tote


Designed for food and employee safety, an ice tote transports ice and can be used as temporary storage for cubes you plan on using in the very near future. Virtually unbreakable in its construction, the ice tote helps you keep your cool while serving drinks.


Mixing Glass


You can never have too many means of mixing cocktails. A standard 18 oz. mixing glass is a sleek alternative to their stainless steel counterparts, giving you another option when working behind the bar.


Condiment Holder


Condiment holders—also called bar garnish centers—are a great way to store your fruit and bar garnishes within easy reach of the bartender. Sam Tell offers condiment holders made with a heavy gauge, stainless steel frame, with six removable plastic pint containers.


Bar Mat


Bar mats protect your bar surface from spills and keep glasses and other tools in place. Made of slip-resistant rubber, bar mats also help in maintaining cleanliness on your counter by containing spilled liquids.


Toothpicks


Made from either bamboo or other types of wood, toothpicks can be a stylish way to place fruits or olives into cocktails.


Stainless Steel Bar Straws


Plastic straws are out—stainless steel straws are in. These reusable specialty straws are considered eco-friendly, making these a great alternative to standard plastic drinking straws.


Bitters Bottle


An elegant bitters bottle allows you to add a dash of bitters to your customers' favorite cocktails. These bottles are meant to dispense bitters only a few drops at a time, eliminating the risk of over pouring. These classic-style bottles feature a cork and stainless steel copper dasher top.


Muddler


When you want to add fresh ingredients to a high-end cocktail, you must have a muddler on hand. Extract the flavors and aroma of citrus or mint leaves with these hardwood, highly polished, alcohol-proof bar tools.


Mixing Beaker


A glass mixing beaker is a patterned, stylish mixing tool with a spout for the ideal pour. Modern mixing beakers are sturdy and don't tip over easily. And as for looks, the mixing beaker is a mixologist's dream, seamlessly blending into the decor of the modern New York City bar.

Order Your NYC Bar Essentials With Sam Tell
Contact your sales rep today to stock up on all the most essential bar tools. We carry all of the above items and more!