Here at Sam Tell, we have drinkware, flatware, and glassware consultants who are experts at knowing what you need before you do - and we love giving you our take! After years of helping New York restaurant owners and chefs pair their menus with tabletop supplies, we'd like to recommend these 4 dinnerware collections from Rosenthal:
Epoque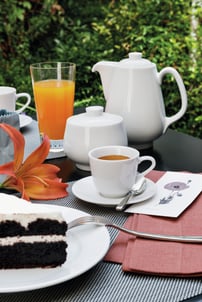 Epoque is one of our most popular dinnerware lines. If you're looking for something durable, clean, and simplistic, you cannot go wrong with Epoque. The collection is perfect for banqueting as the plates come with reinforced edges and stackable cups for a functional buffet. The plates come in 3 decors: skin, true natural metal, and golden brocade. And they're in stock for next-day delivery in the Tri-state area! Get ready for an epic holiday season.
Nido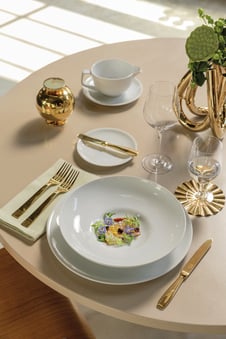 Looking for something classy but not over the top? Nido is known for its timeless design. The deep plates have nest centers to harbor unique recipes, we think they look excellent with pastas and salads. Generous bowls and coupe oval and round plates allow you serve all menu items. The collection also includes cups, teapots, and coffeepots. If your guests are looking for dessert or an afternoon tea, the combi oval saucers to host cup and pastry will not disappoint. Nido is also available for next-day delivery in the Tri-state area!
Junto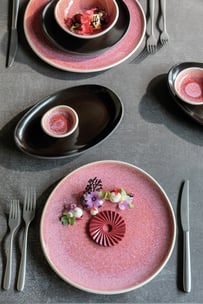 If you're going for a natural handcrafted look with organic shapes, Junto is what you want. The collection is a beautiful combination of porcelain and stoneware that will leave your guests no choice but to do the marketing for you. This dinnerware pairs exceptionally well with antique finishing Sambonet cutlery.
Thomas Clay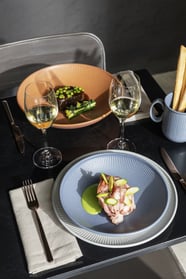 Looking for something other than porcelain? We love Thomas Clay. These plates have a grooved structure with black speckles to add an earthy feel to your dishes. The trendy and stylish collection comes in 3 colors: Earth, Sky, and Rock.
Table Your Plans, Tabletop With Sam!
Not fond of any tabletop items you see above? We only have 1000 more. Regardless of where you are in the restaurant planning process, we've got your back. Reach out to a Sam Tell rep.