Sam Tell Companies has had the privilege of working with some truly incredible clients throughout our 60-year history. One relationship we're particularly proud of is with Carlo's Bakery. With more than a dozen locations across 10 states, Carlo's is more than just a bakery, it's a confectionery institution!
If the name still isn't ringing a bell, perhaps you've heard of the hit TLC show "Cake Boss," which starred Master Baker Buddy Valastro and his family, and gave audiences a look into the inner workings of this successful chain.
The team at Carlo's Bakery in Westbury, NY was kind enough to show us around some time ago to fill us in on what it's like working at such an iconic spot, demonstrate how their Sam Tell equipment has been helping their operation, and even give us a taste of the delicious treats that have made Carlo's such a renowned name in delectable pastries and desserts.
We enjoyed the experience so much we decided to republish our conversation with Carlo's Bakery Head Baker Erin Johnston below. Enjoy!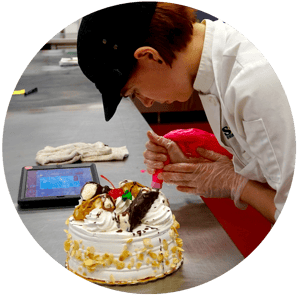 SAM TELL: What do you do?
ERIN JOHNSTON: "I am the baker at Carlo's Bakery. That means I decorate the cakes, cupcakes, I make cookies—including the dough and stuff like that. Napoleons, cannolis, croissants, Danishes…everything you enjoy!"
"How'd you get into baking?"
"I've always been obsessed with food since I was a kid. I went to culinary school at Suffolk Community College, and I worked at a bagel shop as a pastry manager. Then I worked at a small, Italian family bakery, and then I applied here, because I love the show, I love the name, and…yay Carlo's!"
"What's your favorite part about your job?"
"Making something look adorable. I like seeing something separate, and then we get to put it together and it'll be a finished product and it's beautiful."
"What's the most challenging part of your job?"
"Probably mild drama…but everything is overcome. Carrie [the store manager] will definitely break things down to a very easy level, so I don't think anything's that challenging here."
"Tell me a little bit about the Sam Tell equipment here in this bakery."
"I like the two Hobart mixers. I love that it goes up and down on its own, and that it has a little hinge to take [the mixing bowl] off so I can scrape it without having to lug it all the way off the thing. Having it be able to come apart is a really easy way for it to be cleaned…it's still really heavy, but you can't really do anything about that.
"I also love the washer. That thing's powerful [laughs]. I love the hose and that it cleans everything."


Sam Tell is proud to see our equipment in action and looks forward to continuing to satisfy the equipment needs of this exceptional brand for many more years to come. [Originally published June 10, 2015. Republished May 2019.]


Contact Us to find the perfect equipment for your foodservice operation.